Today is such a lovely day outside. I just love the day after rain, every thing is so clean and fresh. I love looking at nature and its beauty and all the small detail of the flowers. We are so blessed to have these things. Everyday I thank God for another day with my Children and Husband and that I can enjoy the beauty around me. For being able to see, hear and smell and all the little things that in our busy lives we sometimes take for granted.
Even though this week has been very sad for us it also has made us thankful for our family and life. To see things in perspective, to be more patient with the children, to say I love you often and really mean it, to count our blessings.
I started painting again yesterday and it really helped me feel better I have listed some of the cuppies I painted on eBay today. I am working on some more cakes and cake slices I have not done any of these since December. Hopefully I will have them finished in a couple of days since my husband will be away for work.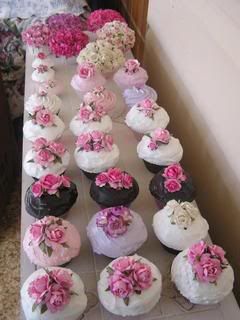 Thankyou to all you lovely ladies who left comments, thankyou for your prayers and support.