Hubby is at a work meeting so I am finally posting another post and ebaying as well as putting my 2 year old to bed. I think I am up to 7 times now. Deep breath... Here she comes again.
I have been busy trying out some new colours and different types of glass glitter. I have been feeling bored doing the same type of thing with they same colour range.
Those of you you have seen my eBay listings would have seen my sugar cubes and sugar hearts. This weekend I was so happy to see the sun finally shining that I decided to make some yellow sugar hearts. I will be listing them tonight.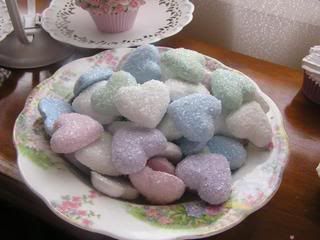 I have also been making some more faux cupcakes, I have decided to bring back sprinkles again, I use to do allot of them but found the cake yellowed from the glue after a while and putting on beads and glass glitter takes time. I think I will have to redo the photos I usually take them during the day but ran out of time and had to take them at night and they just don't turn out as well.
I just love pin dishes and sugar bowls. I have them all around the house full of faux sugar cubes and sugar hearts, at Christmas I fill them with sugar stars and trees. They brighten up those hard to decorate areas.
Well better go and list some more things on eBay and put my daughter to bed again. Till next time:)